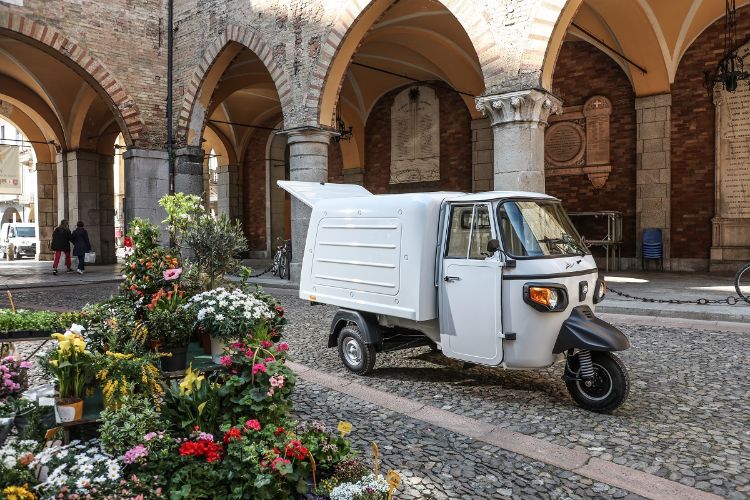 back to models
The unmistakable look and surprising performance specifications, for example the loading capacity of 750 kg, combine to offer a unique mix of form and function that render Ape Classic the ideal vehicle for urban transport applications, as well as an inimitable mobile retail outlet.
Thanks to its extreme flexibility, Ape Classic represents the ideal solution for the most recent trends, such as the street food sector.
Capable of rendering any activity not only instantly recognisable, but also of lending an air of quality and prestige, Ape Classic provides the ideal backdrop to any type of street vending business, from traditional products such as coffee, ice cream and pizza, to regional and national specialities and niche sectors such as local delicacies and ethnic cuisine.
Distinguishing features of Ape Classic:
• Renewed front thanks to a large number of redesigned components.
• New, enhanced practical instrument panel and dashboard.
• New euro 4 engine offering improved performance and enhanced environmental specifications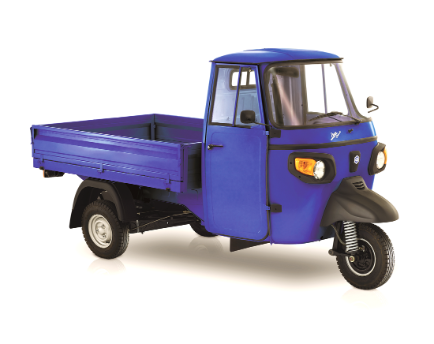 The ideal companion for developing your sales activities, Ape Classic Pianale stands out from the competition thanks to its versatility, agility and robustness (payloads of up to 750 kg). From moving shop to quality street food: Ape Classic looks good with any kind of fittings, from the traditional to the refined. Thanks to its compact sized and reduced running costs it represents the ideal solution for short-range goods transport applications.
charming blue
artic white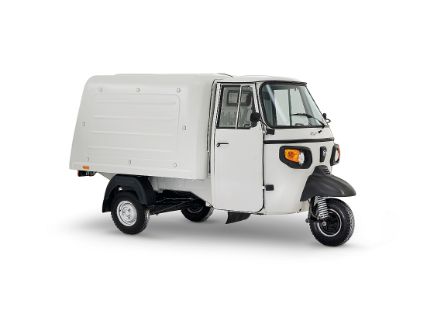 Ape Classic Furgone's vintage coachwork lends it a unique, elegant style. Thanks to a load bearing capacity of 675 kg and a spacious, fully utilisable 2 m³ goods compartment, it is perfect for urban transport and delivery applications, leading all its rivals in the short range category. Ape Classic Furgone is designed so that it is easy to apply advertising panels on the sides, including in wrappable materials, allowing you to customise your business in a truly original way. Original on the outside, functional on the inside, thanks to the threaded insets positioned along the structure of the load compartment, which can be used to mount shelves for storing the tools of your trade.
charming blue
artic white
Mobile business & street food with ape
Just like the product it sells, street food is an affordable and easily accessible business model. This is why it has grown rapidly in recent years, establishing itself as a consolidated trend alongside the long-standing tradition for al fresco dining.
The Ape, however, lends a sense of quality and prestige to any street food vending business, setting it apart as something different. Ideal for every possible genre - from Italian foods to local or ethnic specialities, and from bistro food to original, creative reinterpretations of classics such as burgers, pizzas and deep-fried foods - opening up a world of exciting possibilities on the move, appealing to both the eye and the palate.