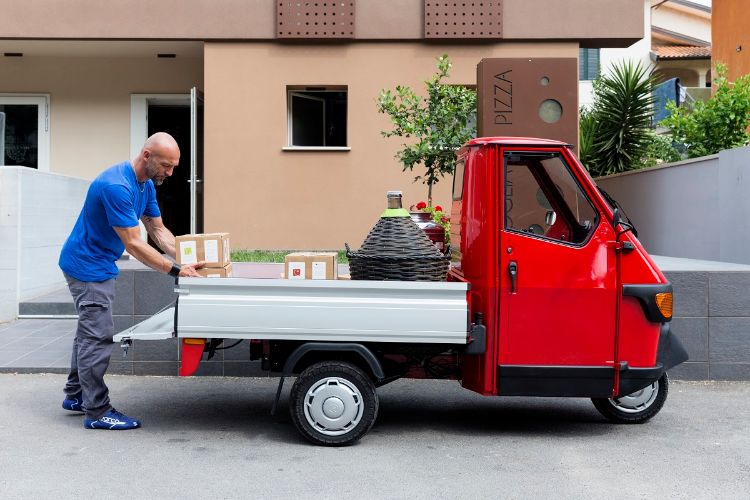 back to models
Completely at home in the rural environment, rapid and efficient when carrying out urban transport activities, Ape 50 is capable of adapting perfectly to every circumstance and satisfying a wide range of requirements, both professional and otherwise.
The range, which is fully compliant with the stringent limits of the Euro 4 standard on vehicle emissions, offers a wide range of transportation options, unique in their versatility and manoeuvrability, for anyone who is looking to express themselves in complete autonomy and stand out from the rest for their originality.
Thanks to the exciting new look, combined with the traditional three wheel, rear wheel drive configuration, Ape 50 is a natural «off road» solution, which is completely at home on non-metalled roads.
The first model in the Ape range and classified as a moped, in Italy Ape 50 may be ridden at the age of 14, provided the rider is in possession of a AM category licence.

Available in:
• a wide range of variations with fixed deck, van and cross configurations.
• new internal and external colour combinations.
THE LEGEND IS REBORN: New Euro 4 engine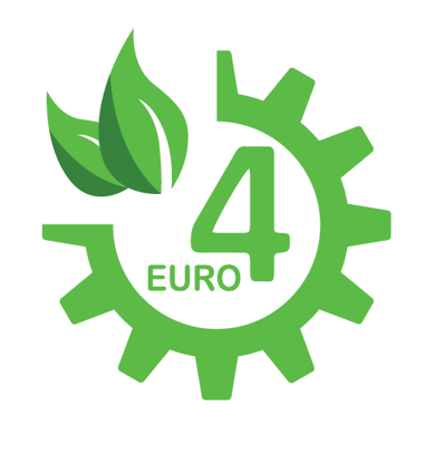 Thanks to the redesigned 50cc, 2 stroke engine and the new silencer,
with its captivating sound, today Ape 50 is even more environmentally friendly and guarantees fuel consumption levels that comply with the most severe provisions of the latest standards.
Furthermore, the Euro 4 version benefits from a series of further improvements in terms of look, practicality and safety, thanks to: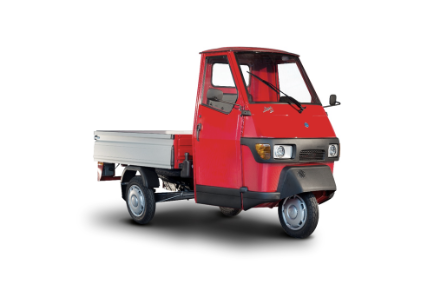 TINY IN SIZE BUT A BIG WORKER
The original Ape, and the most popular model in the entire range, Ape 50 Deck offers unbeatable compactness, agility and fuel economy combined with low running costs.
Perfect for transport tasks in both rural and urban settings.
Available in a choice of two versions:
long deck with steel dropsides and tailboard
long deck with steel dropsides and tailboard
Green Sherwood
Red Sprint
White Silk
Blue Action
Black Volcano
Wolf Grey
Orange
Yellow Green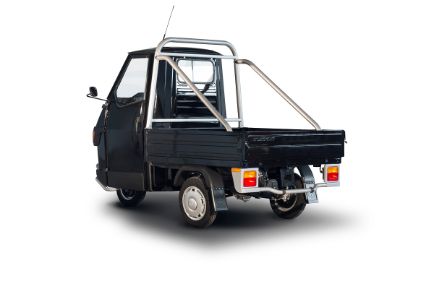 THE CENTRE OF ATTENTION BY CHOICE
Ape 50 Cross is the trendiest version in the range. An authentic, safe pick-up with a roll bar and metal front and rear bumpers giving it a purposeful look, and preconfigured for an audio system as standard to make both work and leisure even more fun than ever.
Green Sherwood
Red Sprint
White Silk
Blue Action
Black Volcano
Wolf Grey
Orange
Yellow Green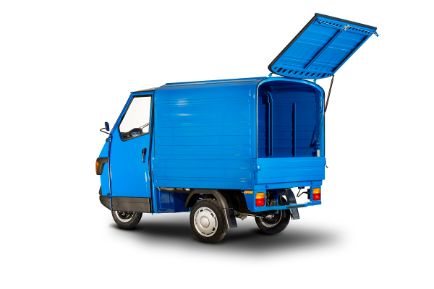 THE MOST COMPACT, EFFICIENT VAN YOU'LL EVER SEE
Agile and dependable, the Ape 50 Van is the ideal vehicle for professionals making frequent deliveries and for light duty applications such as cleaning businesses, for use in the city centre or in situations with particularly congested streets.
With its compact dimensions and extremely tight turning circle, the Ape weaves effortlessly through traffic and is child's play to park. Ape 50 Van can carry loads of up to 170 Kg in its completely enclosed and protected 1.5 m³ capacity rear load bay.
Green Sherwood
Red Sprint
White Silk
Blue Action
Black Volcano
Wolf Grey
Orange
Yellow Green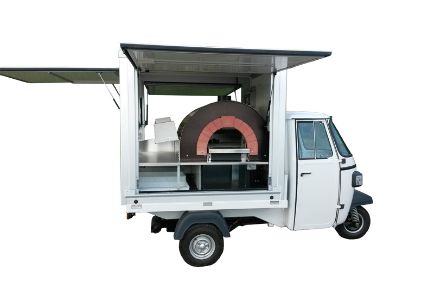 WITH AN APE, YOU'LL NEVER GO UNNOTICED
Ape 50 has long since gone beyond the confines of the typical applications it was originally conceived for, firing the imagination of those who understood its incredible potential for media and business usage.
With its intrinsic characteristics making it a vehicle unlike any other in the world, with an incomparable and instantly likeable character that makes it the centre of attention in any situation, the Ape 50 is the ideal base for a diverse range of applications, from an advertising hoarding van to a mobile shop that is often chosen for mobile catering and refreshment vending (ice cream, coffee, beverages etc.). A brilliant solution for mini start-up business, offering sure-fire success at an affordable price.